In this tutorial, we will show you how to fix the Netflix Error Code H7353 on your Windows PC. When it comes to streaming services, Netflix is right there at the top. Not only does it beholds a plethora of TV series and movies, but also has its in-house produced series that is equally impressive. However, most Windows users seem to have a tough time with this service. While some aren't able to resume their movie playback from a previously saved bookmark, others aren't even to launch the app on their PC.
As of now, the error seems to be more prominent on Windows OS coupled with Microsoft Browsers such as Internet Explorer or Edge. So if you are among those users that are facing this issue as well, then this guide is here to help you out. Today we will make you aware of all the plausible for this error and the steps to fix them. As a result, it will then fix the Netflix Error Code H7353 on your Windows PC as well. Follow along for the detailed instructions.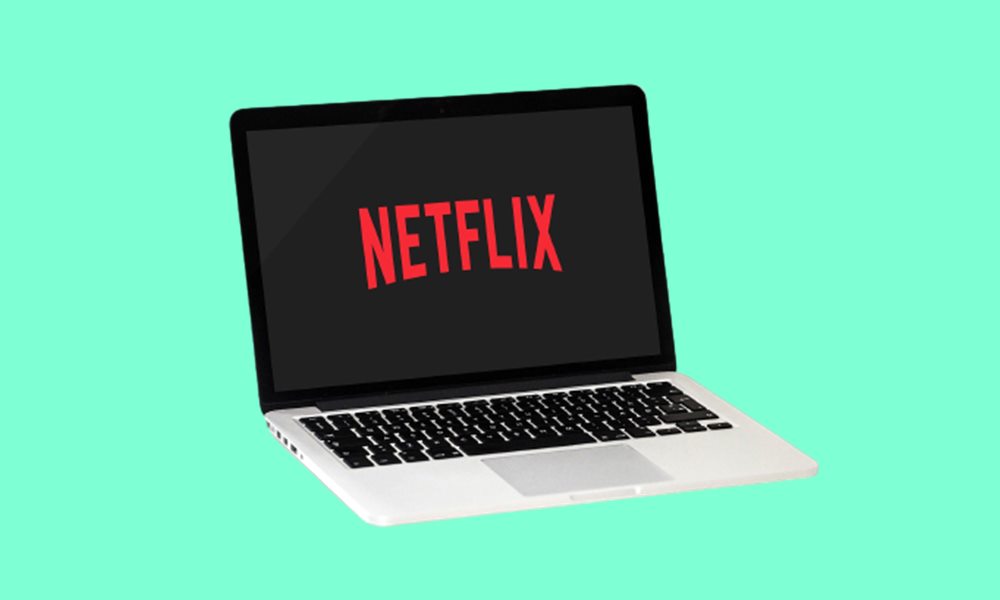 Fix Netflix Error Code H7353 on Windows
There could be quite a few reasons for the aforementioned error. To begin with, it could be attributed to a corrupt Netflix cache or cookie. In some instances, the browser-wide cookies issues might as well be the culprit. Likewise, the issue could also stem out from HTML5 issues with your browser.
Along the same lines, if you haven't updated your PC or using an older Netflix app, then this issue is imminent as well. With that said, this guide beholds some important methods that will help you rectify these issues which in turn will fix the Netflix Error Code H7353 on Windows. So without further ado, let's get on with the guide.
Fix 1: Clear Netflix Cache and Cookies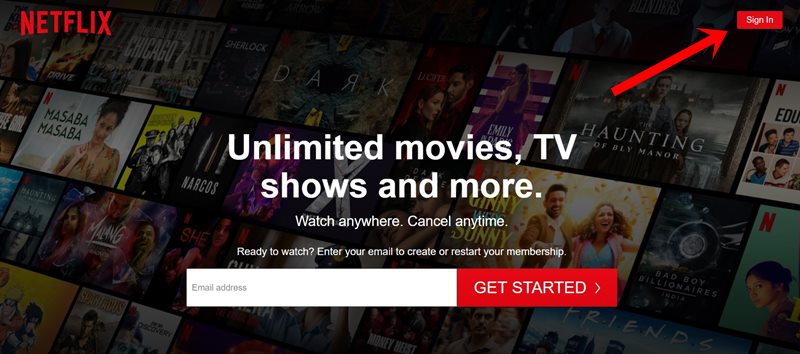 To begin with, it could well be the case of corrupted cookies of this site. In that case, it is recommended that you clear all the temporary and stored data of this streaming service. Fortunately, there isn't much to be done from your end. Just head over to Netflix's Cookies Clearing page and it would do the rest. Once the cookies are deleted, it will automatically redirect to the login page. So sign in with your credentials and check if the Netflix Error Code H7353 on Windows has been fixed or not.
Fix 2: Clear Browser Cookies
If deleting Netflix cookies didn't manage to rectify the issue, then you should consider deleting the browser-wide temporary data. This will remove the cookies and cache associated with all the websites that are stored in the browser. With that said, here are the steps to delete cache cookies on the Microsoft Edge browser: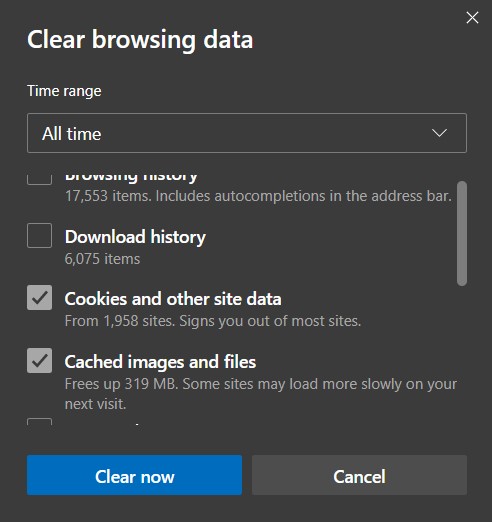 Launch the Edge browser on your PC.
Use the Ctrl+Shift+Del shortcut keys to bring up the Clear Browsing Data popup.
Now select Cookies and other browsing data and Cached Images and Files.
Finally, hit the Clear Now button. Once these data are cleared, restart your browser.
Now log in to Netflix and see if the Error Code H7353 has been rectified or not.
Fix 3: Install Pending Windows Update
Every new Windows update brings in some bug fixes, patches a few issues, and gives overall stability to your PC. So if there are any pending updates, now is probably the right time to install it.

So launch the Run dialog box using the Windows+R shortcut key combination.
Windows 10 users execute the following command:

ms-settings:windowsupdate

On the other hand, Windows 7 and 8 users should type in:

wuapp

This should take you to the Windows Update page. Click on the Check for Update button and if there is any, install them right away.
Once the installation is complete, reboot your PC. Then head over to the Netflix website using the browser of your choice and check if it fixes the Error Code H7353.
Fix 4: Run Windows Store troubleshooter
If you are using Netflix as a UWP app, it would have been installed via the Microsoft Store. So if there are any issues with the Store, its repercussions might be felt on related apps. While manually searching for issues might be a tough nut to crack, fortunately, not much is required from your end. Windows has a built-in Troubleshooter just for this very purpose. Here is how you could make full use of the same: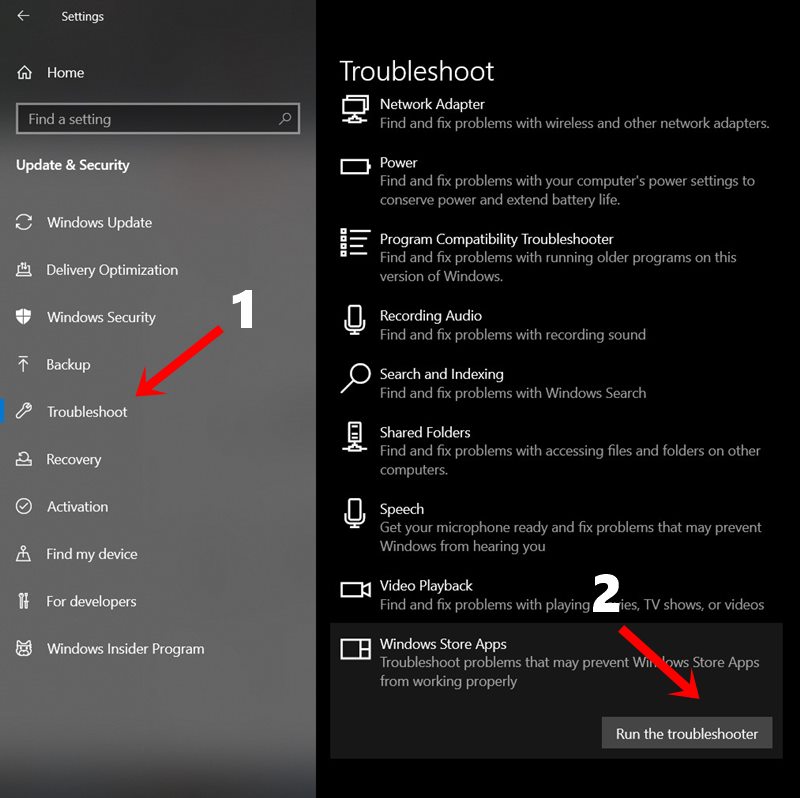 Use the Windows+I shortcut keys to bring up the Settings Page.
Within that, head over to Update & Security.
Then select Troubleshoot from the left menu bar.
Scroll to the bottom of the page and click on Windows Store Apps.
This will bring up the Run the Troubleshooter button, click on it, and wait for the process to complete.
Once it is done, restart your PC and check if the Netflix Error Code H7353 is fixed or not.
Fix 5: Reinstall Windows 10 Netflix app
If Troubleshooter didn't manage to give out any favorable result, then you should consider reinstalling the app. A fresh install has every chance of fixing this issue if it was indeed related to the app. On that note, here are the required steps to carry out this task:

Head over to the Start menu and search for Netflix.
Right below that app listing, you would see some other options as well. Select Uninstall and proceed with the on-screen instructions to remove it from your PC.

Once that is done, go to the Microsoft Store and download the latest build of Netflix.
After the installation is complete, launch it and see whether it was able to fix the Netflix Error Code H7353.
Fix 6: Switch to a Different Browser
As we had mentioned in the beginning, most users were facing issues one running Netflix inside the Microsoft browser ecosystem. The issue mostly results from HTML5 problems inside these browsers. In that regard, the only way out is to bid adieu to Internet Explorer or Edge and switch to an alternate browser. You could try out Chrome, Firefox, Opera, etc.
On that note, we conclude the guide on how to fix the Netflix Error Code H7353. We have shared six different methods for the same, do let us know in the comments which one managed to give out favorable results in your case. Rounding off, here are some iPhone Tips and Tricks, PC tips and tricks, and Android Tips and Trick that you should check out as well.