It seems that Netflix users are receiving a couple of errors while crashing or content streaming. Now, whenever Netflix crashes due to some reason, unfortunate users may find an error message "Netflix has encountered an error. Retrying in X seconds. Code: UI-800-3." If you're also encountering the same problem, make sure to check this troubleshooting guide on How to Fix Netflix Error Code UI-800-3. Plenty of affected Netflix users is reporting that they're facing this error on almost all devices like Amazon Fire TV/Stick, Nintendo Wii U, PS3/PS4, Roku, Set-top Box, Smart TV, Xbox 360, Xbox One, etc.
According to the official Netflix Help section, if you're experiencing the Error Code UI-800-3 that means your device cache or temporary files should be refreshed. Yes! Sometimes it can be possible that an older or corrupted temporary file or cache of the system can trigger multiple issues. To fix this issue, users can try powering off the device or clearing the Netflix app cache data or reinstalling Netflix, etc. However, it's worth mentioning that the mentioned steps may not work on all devices as the error is occurring on several platforms.
How to Fix Netflix Error Code UI-800-3
Now, without wasting any more time, you can jump into the guide below.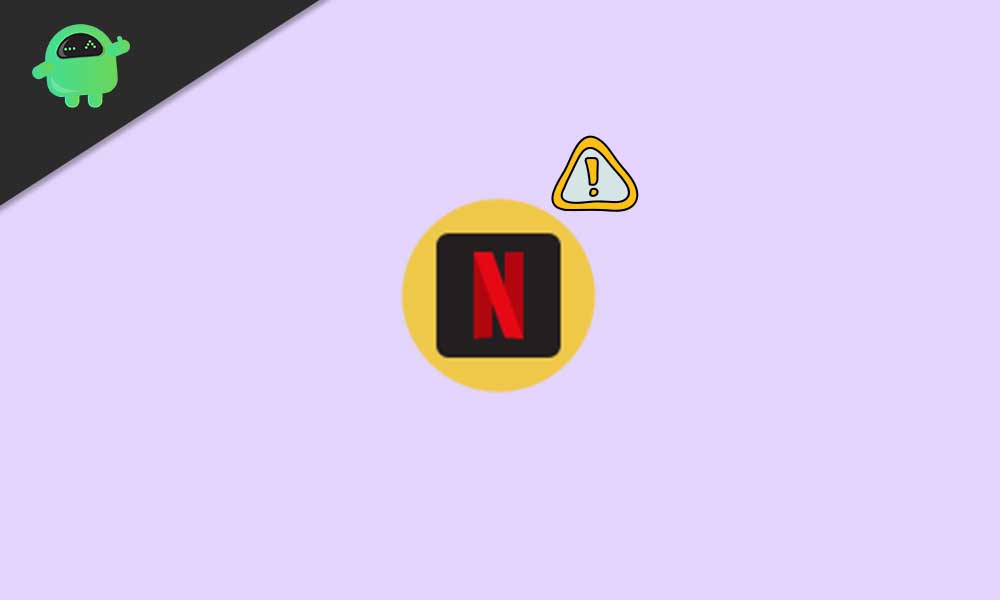 1. Restart the Streaming Device
In most cases, a simple reboot of your Netflix streaming device can completely fix the problem. Some of the users may not think that only restarting the device can resolve the error but it's useful enough. Just select Restart from the menu or power off the streaming device and then turn it on. However, if that doesn't help you out, follow the next method.
2. Power Cycle your Streaming Device
Well, performing the power cycle to your streaming device can also fix multiple issues with the system glitch or cache. To do this:
Power off your streaming device first.
Once the LED indicators turned off, disconnect the power cable from the device.
Wait for around 5 minutes and then plug back the power cable in.
Now, power on the streaming device and try streaming Netflix again to check whether the Error Code UI-800-3 occurring again or not.
3. Sign Out of Netflix
You'll just need to sign out of your Netflix account and sign back in again. This will refresh the temporary cache or data and you will be able to stream your Netflix content once again. Now, if in case, you're having any issues with the Netflix account signing out or signing in then make sure to visit the Netflix website > Go to the Netflix Account Page and choose to Sign out all devices.
Once done, refresh the webpage and sign into your Netflix account again to check for the issue. However, if this method doesn't help you, try another method.
Read More: How to Fix Netflix Streaming Error M7111-1331
4. Clear Netflix Cache or App Data
Some of the streaming devices allow users to clear the locally stored app data or cache to refresh it. This doesn't require uninstalling the particular app from the streaming device whatsoever. For instance, if you're using the Fire TV device then you can easily clear the cache or app data from the device Settings > Applications > Manage Installed Applications > Choose the app you want to clear the cache > Select Clear cache.
Additionally, you can select Clear data if you want to remove locally stored app data. Once done, restart your streaming device and make sure to check if the Netflix Error Code UI-800-3 has been fixed or not.
5. Reinstall the Netflix App
If none of the above methods worked for you, try simply uninstalling and reinstalling the Netflix app from your streaming device to completely remove all the temporarily stored app data or cache. This should gonna help you a lot. Ensure that you won't be able to delete the Netflix app on some of the streaming devices because it comes preinstalled by the manufacturer.
6. Check your Internet Connection
Make sure to check out your internet connection properly because it can possible that something is causing the internet connection to not work properly. In that case, if you're using a Wi-Fi network, ensure to restart the router first. Additionally, you can try unplugging the power cable and then connect again and turn on the router to check if that fixes the problem or not.
Alternatively, you can try switching to the wired (ethernet cable) connection if you're already using a Wi-Fi connection. Otherwise, switch to Wi-Fi if you're using a wired connection.
7. Visit Netflix Help Center
If in case, nothing works for you, visit the official Netflix Help Center page to check detailed instructions.
That's it, guys. We assume this guide was helpful to you. For further queries, you can comment below.