Mac users do not get a Netflix app for video streaming. Instead, they only have the option to stream Netflix content directly from any web browser. The possibilities for a web browser is quite a lot with Firefox, Chrome, Opera, and Safari being the major ones. But while watching a video, Mac users are getting an error on their browser. This is the error S7363-1260-FFFFD1C1 which comes with a message that reads "there was an unexpected error, please reload the page and try again."
This error is specifically standard among only Mac users, and it is frustrating not to be able to watch the content that you paid for. If you are one of the unlucky Mac users who is facing this particular error with Netflix, then this article will be helpful. Here, in this guide, we have included several solutions that you can try to fix the Netflix error 7363-1260-FFFFD1C1. So without further ado, let's get into it.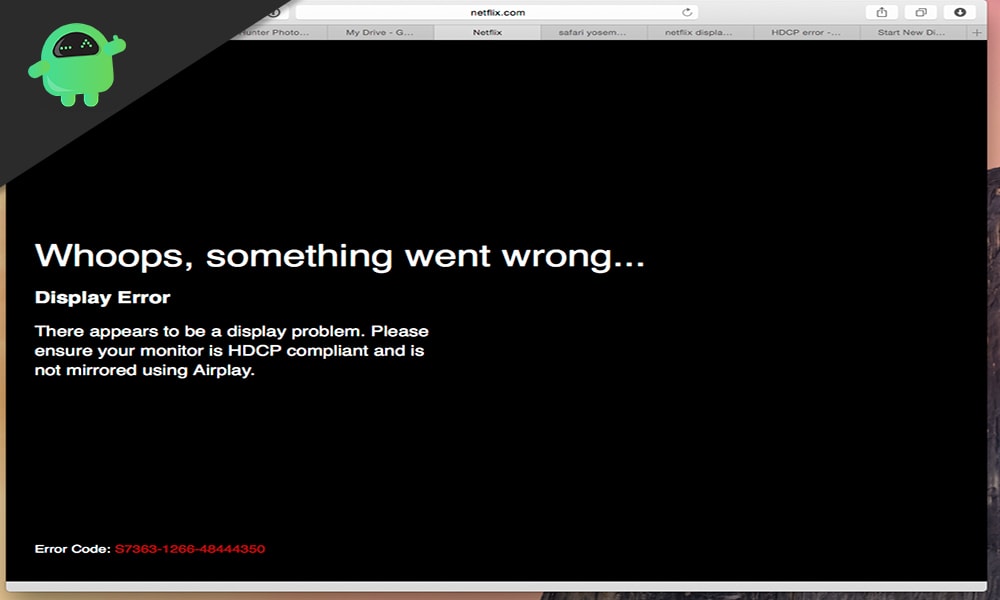 How to fix Netflix Error S7363-1260-FFFFD1C1?
There are several reasons for this to error to show up on your Mac. Firstly, there could be insufficient cached data stored up on your Mac due to which the browser-based playback is facing difficulties. It would be best if you cleared out that insufficient cached data. Secondly, if you already have a playback running in your browser or any application, then that might be hindering your Netflix too.
If you are experiencing this same error across all the other video streaming services as well, then you certainly have a PRAM or NVRAM issue. You can reset both of them in recovery. Besides that, there could be problems with your default browser that is Safari too. In that case, you should try a 3rd party web browser.
So with the primary reasons behind this error out of the way, let's take a look at all the fixes that we can try to fix this error.
Reboot your Mac:
If you have not tried it already, the first thing you need to do here is to restart your entire system, that is your macOS. As mentioned above, one of the major causes behind the Netflix error S7363-1260-FFFFD1C1 is bad cache data. So a simple restart will clear it out.
Click on the small apple icon in the top left corner of your screen.
From the drop-down menu, choose the option Restart.
Confirm your action.
Wait till the restart process is complete, and then try streaming Netflix again.
If this around you face the same error S7363-1260-FFFFD1C1 while streaming, then move on to the next solution mentioned below.
Close other media playback:
As mentioned above, one of the reasons behind this error is background playback. If you already have something else streaming or playing in a video player, then close that entirely before trying to stream content on Netflix. Many times users have experienced this error when they play a video file somewhere else. For some reason, Netflix can't stream properly when there are multiple playbacks in the Mac.
If you don't have anything playing in the background, or if stopping the playback did not bring you any changes, and you still see the error S7363-1260-FFFFD1C1, then try the next fix.
Use a different browser:
This error is relatively standard in the Safari browser. If you are also someone who is trying to stream Netflix only in Safari, then try a different third-party browser like Firefox or Chrome. You can first try updating your Safari browser if you want to use the Safari browser for Netflix streaming. But if even the update does not fix the error S7363-1260-FFFFD1C1, then you should switch over to a different browser.
If you are experiencing the error S7363-1260-FFFFD1C1 even in browsers other than Safari, then the only thing left for you to do is reset the PRAM and NVRAM.
Clear or Reset PRAM and NVRAM:
NVRAM stands for Non-Volatile Random-Access Memory and PRAM stands for Parameter RAM. NVRAM on Mac is used to store specific settings and to provide quick access to them. And PRAM is used to store the Kernel information of the Mac system. Sometimes the NVRAM or PRAM stores some extra bit of information that can cause hindrance to Netflix streaming. So clearing both of them can help you with the error S7363-1260-FFFFD1C1 on Netflix.
Firstly you need to turn off your Mac that is completely shut down.
Then start your Mac again and immediately as soon as it starts, press and hold the four keys Option + Command + P + R.
Don't let go of the buttons for about twenty seconds and you will see your Mac attempting to restart again. As soon as you hear the startup sound let go of the buttons.
Click on the small search icon in the top right corner of your screen.
Search for the terminal and open it up.
Enter the following command in terminal and press the return key:
nvram 8be4df61-93ca-11d2-aa0d-00e098032b8c:epid_provisioned=%01%00%00%00
The command will process, and after the processing is complete, your NVRAM and PRAM are successfully reset.
So these are all the possible fixes to fix the Netflix error S7363-1260-FFFFD1C1 that many Mac users are facing. If you have any questions or queries about this guide, then comment down below, and we will get back to you. Also, be sure to check out our other articles on iPhone tips and tricks, Android tips and tricks, PC tips and tricks, and much more for more useful information.