Netflix, the most popular media service, has a lot to offer. It has a never-ending list of noteworthy movies, TV shows, anime, and more. Besides, Netflix also produces its original content, most of which are top-rated ones.
Just when you start to feel like you have nothing more to watch, Netflix will come up with mind-boggling surprises for you. However, in order to enjoy their services, you need to subscribe to their available paid plans.
But here's the fun part, Netflix also offers certain shared plans where you can share your account with friends and families. You can add a maximum of 5 people to your account. But what if you exceed the limit?
Well, there's a high percentage of a chance of losing your own account. And that's when you feel the need to kick somebody out of your Netflix account. There might also be several other reasons behind it. Anyway, the question here is how to do so?
How To Kick Somebody Out of your Netflix Account?
Once you hit the absolute capacity of your own subscription plan, you might run the risk of losing your own account. The wisest option left for you is to ask some mooching users to log out of your account.
However, if that doesn't work out for you, the steps below will help you kick out any particular user from your account.
Log in to your Netflix account.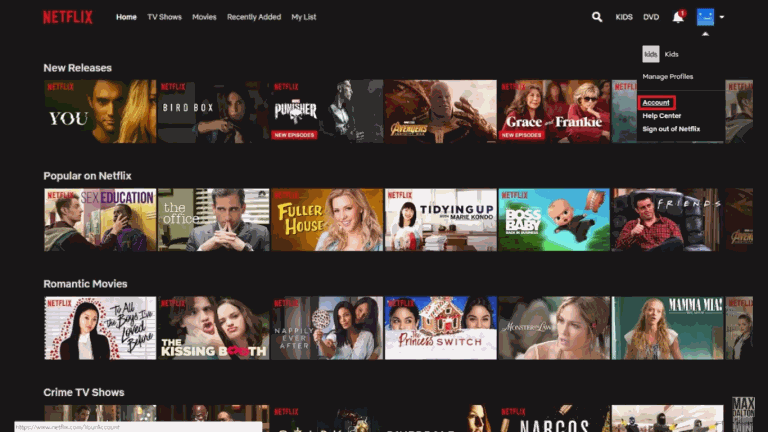 Hover over your profile, and from the drop-down menu, click on "manage profiles."

Select "Sign Out of All Devices" on the My Account page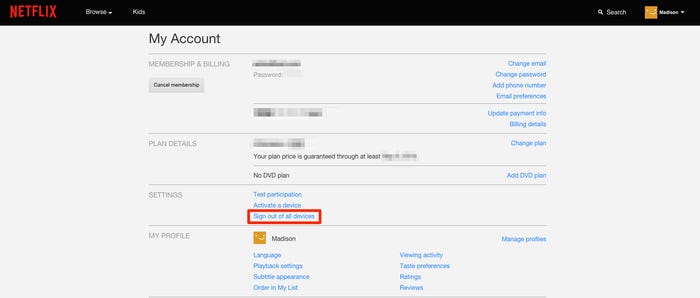 Click on the Sign Out button.
Lastly, it will display a message saying "You have been signed out of all devices" in green.

Although you will receive the message as soon as you click the Sign Out button, it might still take around 8 hours to come into action. Hence, don't lose patience and wait until it's been logged out of all devices.
Now, since the other users might have your accounts login credentials, Netflix suggests you change your password.
However, that is not compulsory, I would still recommend setting a new password to ensure nobody logs in without your consent.
Conclusion
The shared plans of Netflix help them drive more and more customers. However, if you cannot maintain your shared account with the limited users and somehow exceed it, you might have to kick somebody out unless you are willing to lose your own. Hence, these steps will help you sign out your account of all devices and prevent unwanted users from logging in.