Netflix Error Code TVQ-ST-131 happens mainly because of a network connectivity issue; it's a common error that further hampers a device from reaching the Netflix service. Whenever a Netflix user sees tvq-st-131 error code, they also receive a few notifications such as Netflix is unable to connect, try again, restart your network and streaming device, etc.
Netflix Error Code TVQ-ST-131 means the device is trying to connect to the Netflix server, but something is coming in between the user and server; it may be a server down difficulty or any other bug that is not supporting to connect with the NetFlix server.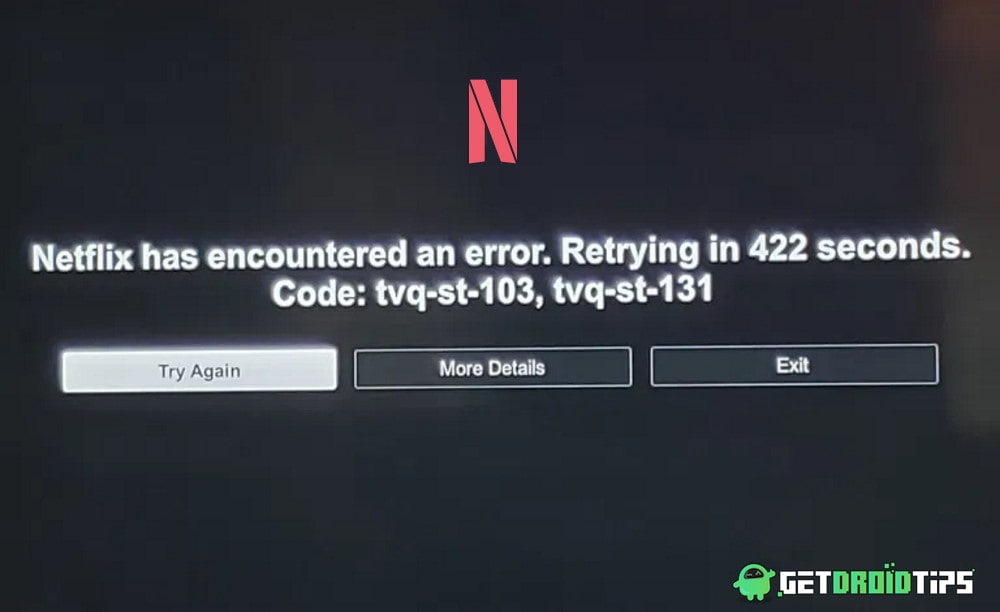 How to FIX Netflix Error Code TVQ-ST-131
Method 1: Check Internet Connection
This is over the first priority to check our network connectivity. You have to make sure that your network is supportive of all HD streaming services. You can try in other devices with the same connection to ensure that there's an internet connection. If all is ok, try to contact the network administrator. As if you were using a shared internet connection, maybe an operator disabled your access to streaming services.
Method 2: Investigating the Status of Netflix Server
If the status page of Netflix currently reports a server problem, I suggest you should start this troubleshooting guide by ensuring that the Netflix service is not currently experiencing a server.
You can quickly check by accessing the official status page of Netflix and check whether they are currently reporting any issues. If yes, you can Start Live Chat with Netflix and ask a support agent either it's happening in only your area.
Method 3: Clear your Netflix Cache
Clearing the cache memory is like all problem one solution hope you got me. First, log out of your Netflix account before turning the device off, and Clearing the cache will play a part in updating a new setting that may have changed on the device. Now sign in back after the restart. I hope the Netflix Error Code TVQ-ST-131 walkthrough from your device.
Method 4: Change or verify the DNS range
DNS stands for Domain Name Address used to connect to the internet or a private connection. In most of the case, affected users have reported that they managed to fix the issue by changing the DNS to the values supplied by Google. But keep in mind that depending on the platform where you're struggling, steps of changing the default DNS will be different, so completing the migration to a more stable DNS. If this error code also appears on PC, Xbox One, or Playstation 4 just applies to change the DNS setting.
Method 5: Update your network service
Check for network uploading and downloading speed data if it's below average changes such as change of access point names because Netflix type of app consumes heavy data every second. Low internet also speeds the reason behind poor network performance. One solution is don't share your home bandwidth with an outsider or use it on the limited devices. Then you will avoid Netflix displays error tvq-st-131.
Method 6: Restart Your Home Network or router
If you go through all the above steps and still in trouble, then you're not actually dealing with a server issue. This type of problem comes when your ISP will assign a Dynamic IP address from a pool that Netflix doesn't like.
The dynamic IP address you get assigned might be blocked by Netflix or blacklisted in your town. You can try refreshing your TCP and IP connection or assign you a new IP by using VPN services.
Conclusion
In today's generation, everyone loves to watch movies, web series, animations on Netflix, and they buy Netflix subscriptions by paying huge amounts for the same purpose that is entertainment. The above methods will definitely help you to fix the Netflix error.