Elden Ring opens a new open-world to you with barely any restrictions to follow. With tons of bosses and demigods to fight and a whole new world to explore, it certainly boasts a true adventure. Although it is much more accessible for beginners, like any other souls-borne game Elden Ring brings in a lot of 'kill or die' moments throughout the journey. It is no news that players often find themselves in the ring with an invincible opponent with very little chance to win.
Fortunately, Elden Ring introduces a bunch of powerful and magical items that can instantly turn the tides in the game. Talking about such magical items, Talismans are one of the most valued objects in the entire game. Talismans are magical items capable of performing various buffing functions that indeed make your in-game character powerful enough to hold a fair fight. That is why it has become such an important part of the game. And to help you find the most formidable Talismans in Elden Ring, here we have brought a tier list of the best Talismans in the game.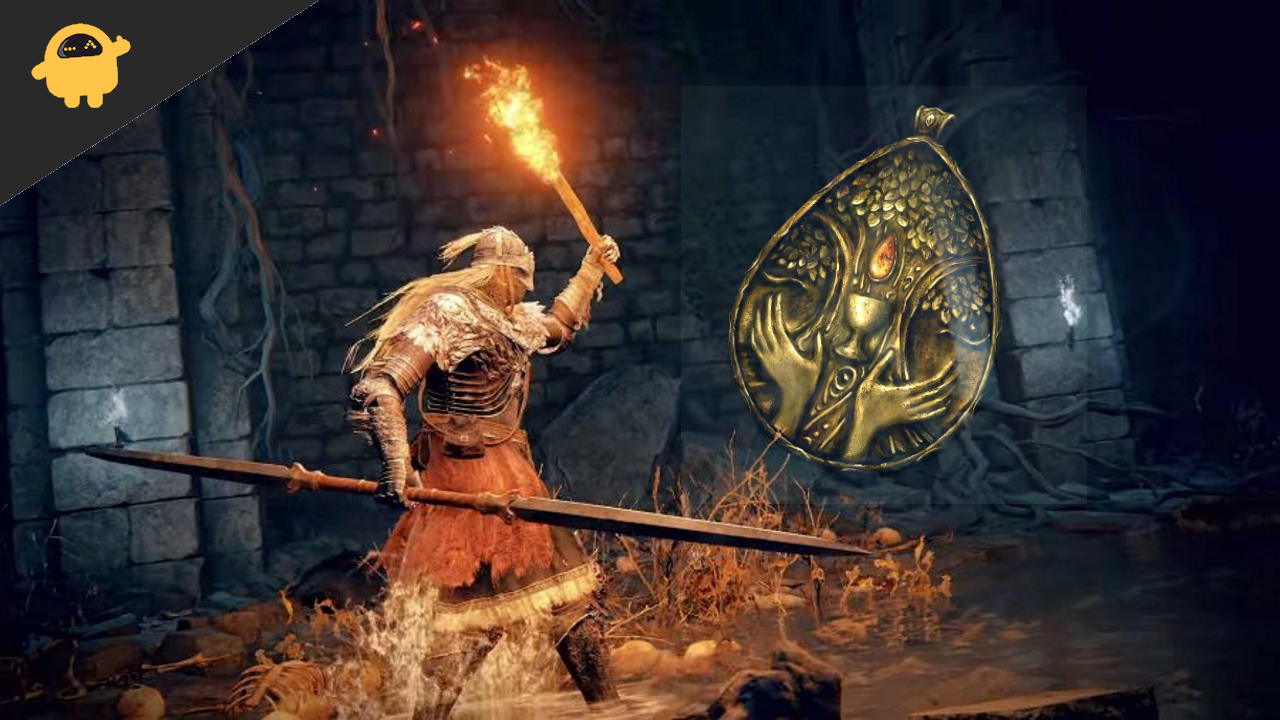 Elden Ring Best Talismans Tier List
Having a good Talisman in the inventory is like having a worthy resource to back up your character while facing a strong opponent. Since Elden Ring has a lot of Talismans on the menu, it can get very perplexing to choose a suitable one for your character. Therefore, today are going to look at the 10 most beneficial Talismans you can go for based on your character.
1. Viridian Amber Medallion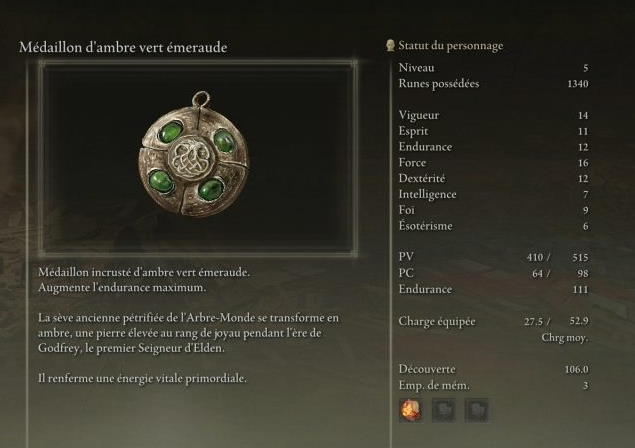 Most of the time, players find it effective to keep rolling while in a boss fight rather than staying and taking all the blows. And it is indeed a great tactic to fight against a slower opponent. Well, if your playstyle involves a lot of rolling and moving, Viridian Amber Medallion is something good to have in your inventory. The talisman significantly increases your stamina and provides you the power to roll and fight battles.
You can get the Viridian Amber Medallion as a reward after you kill the boss in the Tomsward Cave. It is situated in the South of Limgrave. Make sure to go prepared as you shall be expecting a lot of poisonous enemies your way.
2. Assassin's Crimson Dagger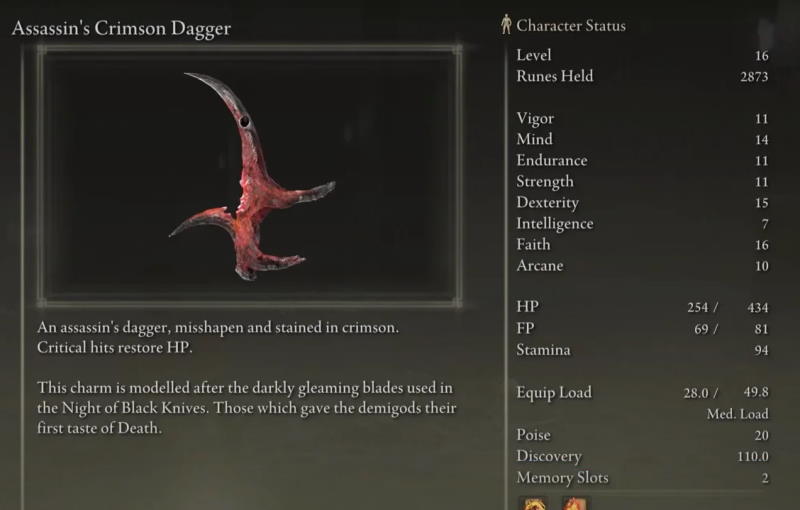 You need to defeat the boss known as Black Knife Assasin to get the Assassin's Crimson Dagger. The talisman is located in the Deathtouched Catacombs in Limgrave. The Crimson Dagger is basically a healing talisman capable of restoring your HP with each and every hit. It is often considered one of the most effective and powerful talismans in the world of Elden Ring.
3. Bull-Goat's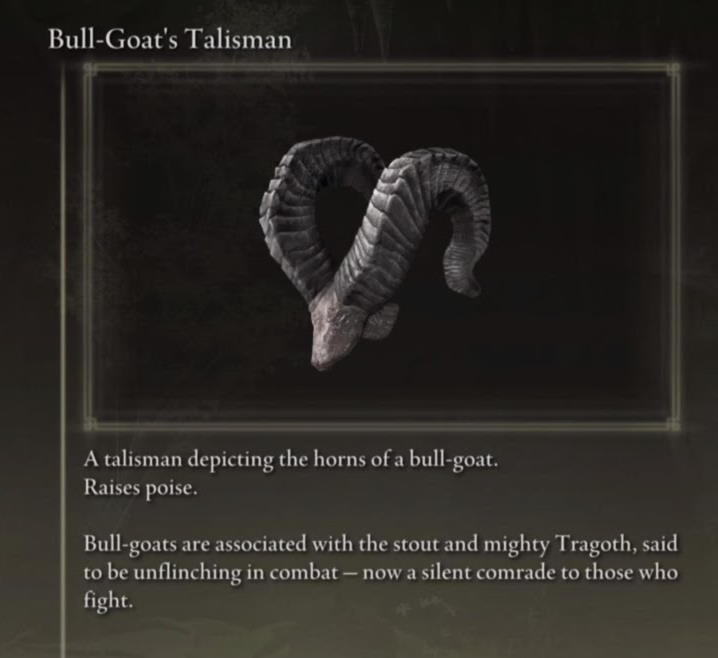 Situated in the Dragonbarrow Cave, the Bull Goat talisman is another one on our list you might consider having in your inventory. The talisman simply increases the character's poise by almost 33%. Therefore, it provides great resistance power to your character against being staggered.
The best part about this is its location. The Bull-Goat talisman is easily accessible on a random corpse in Dragonbarrow Cave. As you discover the location, you can easily spot it on a corpse. Although it is not among the top-ranked ones, it can still be a useful weapon in your inventory.
4. Magic Scorpion
Just as the symbol itself, Magic Scorpion is a two-headed talisman known for its extraordinary potential powers. It can buff magic attacks by around 12%. And what's more interesting is it can also increase the damage received at the same time. Hence, having it as a backup brings you more control over the battle. But Magic Scorpion has very high Vigor stat requirements. This is why it often gets hard for beginners to have this talisman in their inventory.
As for its location, getting to the Magic Scorpion does include some hectic journey to you. Firstly, you need to talk to Preceptor Seluvis and then complete the Ranni the Witch questline before you could access this talisman.
5. Blessed Dew Talisman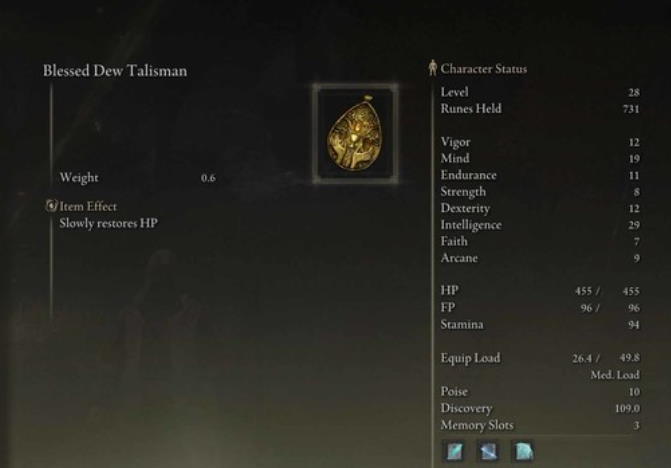 Just like the Assassin's Crimson Dagger, the Blessed Dew talisman is another healing talisman. But having it at your side might feel just like a blessing. It keeps increasing your HP throughout every battle which can be an important factor as you are up against various bosses. The Blessed Dew talisman is capable of restoring two HP per second, thus keeping up your speed and movements throughout the fight.
The Blessed Dew talisman is located in Lyndel. Keep moving through the stone archway after reaching Lyndel. You can find the talisman by the end of the archway. However, it won't come to you that easy, so make sure you are prepared enough to deal with the enemies that come your way. Besides, take care as you walk into the archway as this would wake up the giant taking a nap inside which could further take you up by surprise.
6. Redagon's Soreseal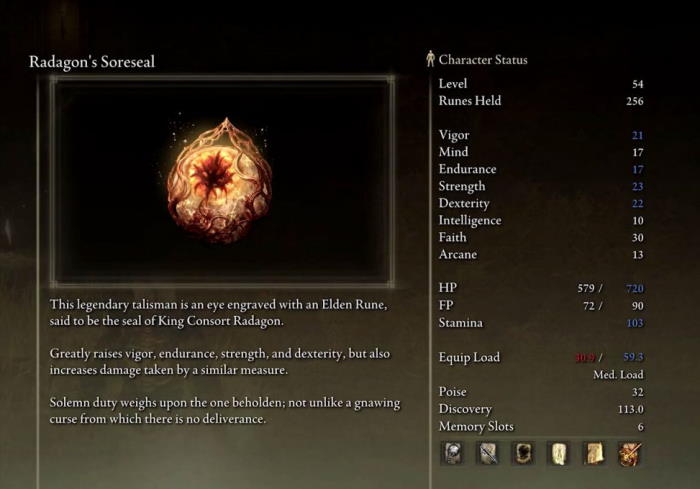 The Redagon's Soreseal is often seen as one of the best talismans in Elden Ring due to its positive powers. On the other hand, some players have different opinions looking at its -15% damage negation ability. But whatever the reason might be, it could still stand as a very useful weapon in your inventory only if you know how to use it.
The Redagon's Soreseal raises your character's endurance level, vigor, strength, and dexterity by 5. And this is why it is valued so much in the world of Elden Ring. Moreover, the buff of this talisman is almost parallel to 20 levels making it one of the superior ones on the list. Redagon's Soreseal can be easily found in Fort Faroth. Only make sure to care for the worse situations that might block your way.
7. Cerulean Amber Medallion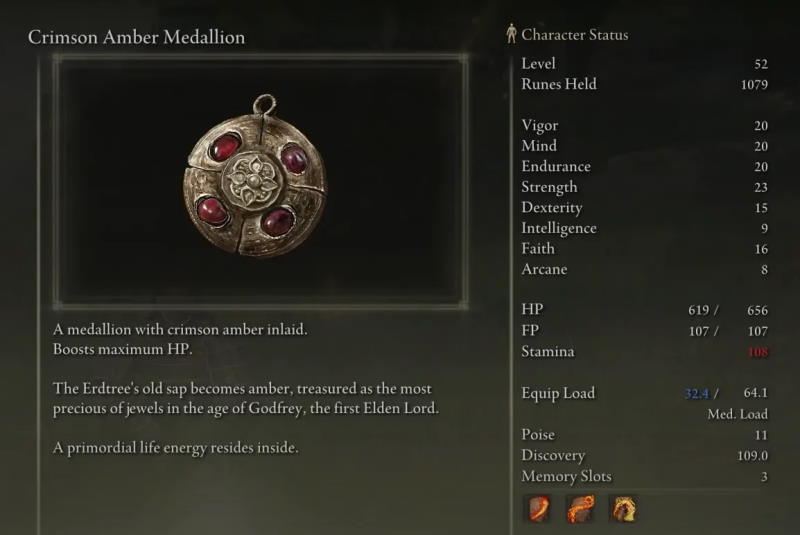 This one is especially for those who use a magical class in their game. The Cerulean Amber Medallion increases your FP making it possible to launch more magical attacks throughout the battles. It can be of great use while fighting a stronger opponent as it will make sure your character doesn't run out of FP's allowing you to consistently use magical powers against the enemy.
You can earn this talisman as a reward by killing the boss called Bloodhood Knight. All you need to do is go to the Lakeside Crystal Cave located in Liurnia of the Lakes. As you reach the bottom of the cave, you can find the Cerulean Amber Medallion talisman there.
8. Curved Sword Talisman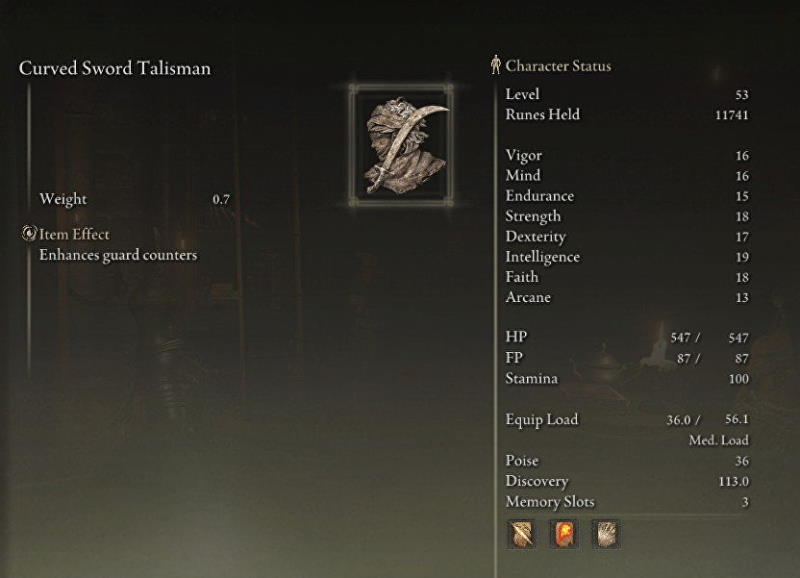 Finally, coming to our last choice on the list of best talismans in Elden Ring, we have the Curved Sword Talisman. This talisman specializes in enhancing the guard counters. Well, if you are not yet familiar with this power, the guard counter is a unique technique to launch attacks after guarding the hits against the enemies. You can launch powerful attacks and can even break your opponent's stance with this talisman. It is a useful talisman whose powers can be embraced at any difficult battle to defeat a strong boss or enemy.
The Curved Sword talisman can be found inside the Stormveil castle located in Stormveil Castle. The talisman is located deep inside a dark room near the stairs.
Conclusion
Elden Ring is known for many things that make it truly interesting and thrilling. Other than the dramatic questlines, face-to-face combats, weapons, and a lot of other things, talismans play an important element in the game. It provides your character with certain powers that helps you defeat even the formidable enemies on your way. You can get some advantages while fighting against the bosses. And if you choose a talisman wisely suitable for your character, it will add the most benefits to your gaming style.
Hopefully, this tier list on the best talismans in Elden Ring will help you discover something based on your character. We have also mentioned the location for each talisman, so you can easily find them in the mentioned locations. Just make sure to be well prepared on your way and let us know which Talisman did you liked the most.