Updates are being continuously added…
Update as of October 18: Leakster Digital Chat Station has revealed some changes that the incoming MIUI 12 closed beta has brought about. The changes are w.r.t. The system interface and the changes are bit as you can see in the image below. Also, MIUI 13 will be based on both Android 11 and Android 12 just like the previous MIUI iterations.
Update as of September 20: A screenshot of what appears to be MIUI 13 has made it to the internet. The MIUI 13 is the upcoming iteration from Xiaomi and the screenshot shows new widgets and icons that look heavily inspired from iOS. MIUI 13 will also bring the functionality to extend RAM using a flash drive dubbed as virtual RAM that many OEMs have released their phones with. You can read more about it here.
Update as of September 6: Xiaomi's MIUI custom UI is filled with a tonne of features. Adding one more to the long list is the MIUI Pure Mode. It is still in a beta testing stage. The feature is focused towards addressing security concerns on Xiaomi devices running malicious Android applications. In fact, it will disable sideloading APKs on devices. Rather than a feature by default, it will arrive as a setting allowing users to enable and disable it as per their will and wish. The MIUI Pure Mode is in beta phase in China and 1000 devices have been approved per day starting September 6 for a total of 5 days.[Source]
Update as of August 30: The developer team behind MIUI is working on a new widget system for MIUI 12.5 Enhanced Edition and possibly MIUI 13. This was shared by a super moderator on the Mi Community carrying a screenshot of the new widget system that you can check out below. Note that it is still unclear when the new widget system will arrive but it could be either with MIUI 12.5 EE or MIUI 13.
Update as of August 24: There's an update w.r.t. the MIUI 13 from Alvin Tse which means it is is verified information. Apparently, MIUI 13 has been delayed and won't be arriving this year. The MIUI 12.5 Enhanced Edition which is arriving across Xiaomi devices is the only update available. The MIUI 13 is highly likely to arrive next year although the dates aren't available.
Update as of August 2: Based on the latest update, MIUI 13 was earlier expected to arrive with Mi Mix 4. However, it will arrive with MIUI 12.5 as the MIUI 13 requires further polishing with Android 12 beta. Thus, users waiting for MIUI 13 will have to wait some more.
Update as of July 30: Well, the Android 12 is incoming and a list of Android 12 has arrived albeit unofficially. According to the same, Xiaomi has started internal testing of Android 12 on Xiaomi Redmi K30 Pro in China which is called as Poco F2 Pro although the update is confined to the Chinese model only. It is highly likely to arrive on-board MIUI 13. According to the list, Redmi K30 Pro Zoom, Mi 11/Pro/Ultra, Mi 11i/11X/ Poco F3/ Redmi K40, Mi 11X Pro/ Redmi K40 / K40 Pro+, Mi 10/Pro/Ultra, Mi 10S, Mi 11 Lite 5G, and Mi 10T/ 10T Pro/ Redmi K30S Ultra are all the models that are currently in Android 12 internal beta testing phase although take it with a pinch of salt at the moment. [Source]
Update as of July 26: Based on a Weibo post that was replicated on a popular Xiaomi updates based Telegram channel, some of the features that are likely to arrive with MIUI 13 are as follows.
Natural Touch 2.0

Conversational Active Intelligence

New Control Center

Brand New Small Window

Gesture Turbo 2.0.
Update as of July 22: According to a reliable leakster, some of the features that are likely to make it on the upcoming MIUI 13 are as follows.
New Fonts

New Sound Effects

New Desktop Icons

New Small Window Mode

Memory Fusion Technology

Layered Rendering System Animation.
Update as of July 20: A screenshot of the MIUI 13 shows a revamped Control Center. Although not everything has changed, some of the UI elements have been changed or moved and that is what we will get to see with the upcoming MIUI 13.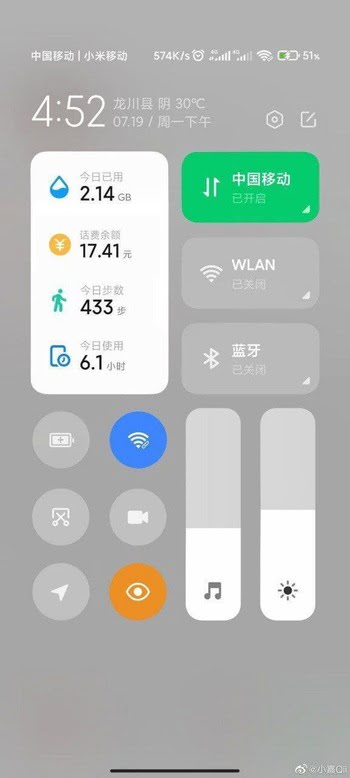 Update as of July 14: As per the latest update, Xiaomi is reportedly testing out Android 12 on Xiaomi Mi 10, Mi 10 Pro, Mi 10 Ultra, Mi 10T/ Mi 10T Pro and Redmi K30S Ultra in China and it is related to MIUI 13. Technically, MIUI 13 would arrive with Android 12 as well as it will be compatible with Android 11 as well. However, since MIUI 13 is highly speculated to arrive early next month and given the fact that Xiaomi has already started testing out Android 12 on many of the phones mentioned above, the MIUI 13 is expected to come bundled with it as well.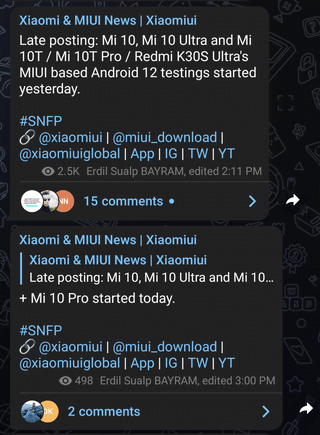 However, even if the testing turns out to be true, it is limited to a handful of devices mentioned above and for a handful of users only.
Update as of July 12: According to an update, the upcoming MIUI 13 will bring a new set of home screen widgets as well as system icons. This is coming from an unofficial but reputable Telegram group that posts updates about upcoming MIUI builds.
Update as of July 6: According to a recent report, a Pioneer Team which was believed to be working on improving MIUI 12.5 in correspondence with a limited number of end users are indeed working on MIUI 13 instead. There are hints that the MIUI 13 development has begun and the update is likely to hit the Chinese market in August. It is being reported that MIUI 13 tests are being conducted with MIUI beta release version 21.7.6
It was released for the Xiaomi Mi 11 Lite 5G. For context, MIUI beta versions correspond to the dates they were built. Also, the version is labeled as "0" where the previous MIUI beta v21.7.5 was labeled as "12". The probability of Xiaomi resetting the version number hints that the MIUI 13 development has begun. However, take it with a pinch of salt at least for the moment.
Update as of July 2: Looks like Xiaomi is building up multilang support for the upcoming MIUI 13 China ROM. This comes from a report according to which users will be able to set their preferred language. As of now, apps running on MIUI 12.5 China Beta are being broadcasted in user-selected language while some elements including System UI is in English.
Update as of June 26: According to a popular Xiaomiui Telegram channel, the tentative release date for MIUI 13 is on July 16. To put things into context, the official Mi File Manager is slated to arrive on July 16 and it is likely that the MIUI 13 development version is likely to release during the same time only. Note that this timeline is for the Chinese ROM only and not the global ROMs.
Update as of June 25: A Xiaomi executive has hinted that a new development version of MIUI is set to release in August. This is likely a hint towards the upcoming MIUI 13 which is likely to arrive soon although take it with a pinch of salt.
Update as of June 23: The current MIUI File Manager looks like it has remained unchanged for years and gives a reminiscent of MIUI 10. However, the new MIUI File Manager that has a version 4.3.0.2 released for Chinese ROM gives an overhaul to the UI and it looks mesmerizing. The app UI shows cool new animations that trigger when changing storage views and it looks out-of-the-box.
The app shows an overhaul folder UI and more. However, it remains a mystery when the new File Manager will arrive on ROMs outside China. It is still available for downloads if you are ready to take that chance. Also, it remains to be known whether the new MIUI File Manager arrives as a part of MIUI 13 or it is announced at MIUI 12.5. Above all, the UI as seen in the new File Manager might be replicated on other system apps in MIUI 13.
Update as of June 7: The v21.05.29 beta of the MIUI Cleaner app recently went live on MIUI 13 development. The changelog mentions general bug fixes and development of engines for garbage cleaning. Xiaomi is working towards bringing its apps native to MIUI 13 hinting at its imminent release although there's no fixed timeline available at the moment. [Source]
---
When it comes to Chinese smartphone OEMs, Xiaomi stands out in the competition due to its customized skin, better hardware specifications, and good price range. Now, after releasing the Android 12 Beta officially, Xiaomi users are eager to know about MIUI 13: New Features, Release Date, Supported Devices List, and More.
So, if you're one of the Xiaomi device users then it's needless to say that you're most probably like its own customized skin called 'MIUI'. The customized skin basically represents the native Android interface and transitions in its own developed way to the users that appear quite different apart from a couple of additional functionalities as well.
Multiple reports are coming out that MIUI 13 is on the verge to be released soon by the end of this year based on Android 12 OS. Currently, Xiaomi is focused on providing the official stable MIUI 12 skin update to its eligible devices in batches that includes security patch and additional improvements on top of Android 11. So, it'll take some time to jump into MIUI 13.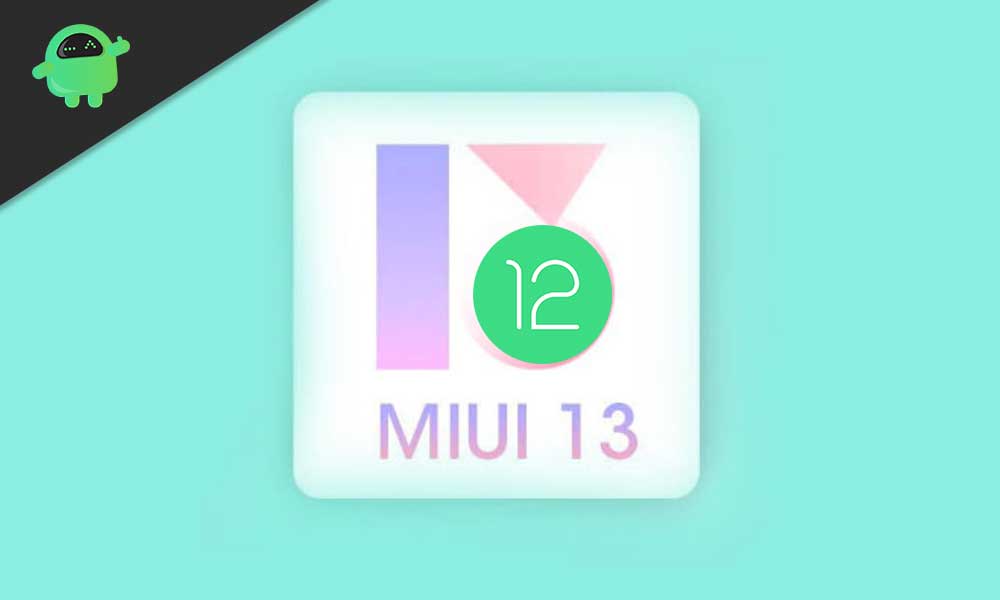 What is MIUI 13?
As we've already mentioned, MIUI is the customized skin for Xiaomi Mi, Redmi, Poco, Black Shark devices that come preloaded depending on the current Android OS version. Currently, most of the eligible Xiaomi devices are running on the Android 11 version on top of MIUI 12 officially. That means the MIUI 13 skin will be the successor version of MIUI 12.
Last year, MIUI 12 came with native Android 11 features, and it also includes an app drawer, improved dark mode, ultra battery saver mode, and more. This year we're expecting that Xiaomi will arrive with a bang that includes more improved features and additional functionalities whatsoever.
MIUI 13: New Features
Now, you may ask what will be the upcoming features. Well, Xiaomi hasn't mentioned anything officially on it yet. But we've managed to provide a couple of expected features that may gonna arrive this year along with Android 12 most probably.
Note: Some of the mentioned features may be changed because these are collected from multiple reports, leaks, and rumors. So, the final output may vary without any prior notice.
Improved animations and transitions
Enhanced touch sensitivity
Native screen recording support
Memory expansion and extension (RAM Flexibility)
Minimal themes with improved icons
Improved system UI
Support for scrolling screenshots
Back gesture tweaking and additional support
Improved MIUI Always-on Display
Scheduled Airplane mode
Share menu app pinning
Improved quick replies option
Improved dark mode with scheduling
Enhanced app privacy with one time permissions
Scoped storage option
Charge Turbo function
Better monochrome power-saving mode
Notifications history option
Project mainline enhancements
And more…
MIUI 13: Release Date
It seems that MIUI 13 early beta program will soon start in China by June 2021 most probably. Google has already released the Android 12 Beta 1 update for a list of eligible devices and four of the Mi 11 series devices are on the list.
That means if you're one of the users of Xiaomi Mi 11, Mi 11 Ultra, Mi 11i, or Mi 11X Pro then you're lucky enough to install the Android 12 Beta 1 right now officially. To know more about it, you can visit the Mi Android 12 Developer Preview Program page. Interested users can easily opt-in for the Android 12 Beta build by downloading the flash file and using the fastboot method.
According to the GizChina blog, the chances are high enough that the MIUI 13 is all set to be introduced on June 25, 2021. After running the early beta program for a couple of months or so on a couple of eligible Xiaomi devices, the OEM will head over to push the official stable build based on Android 12 by the end of 2021 expectedly.
To recall, Google will clear all the platform stability-related issues in August 2021 and then officially release the stable Android 12 version in September 2021 just like every year. So, it'll take some time for Xiaomi to push the MIUI 13 update in batches to all of its eligible devices from flagship to older or lower-order models respectively.
MIUI 13: Supported Devices List
Please Note: This device list isn't officially announced by Xiaomi yet. So, the list may change accordingly without any prior notice.
Poco Models:
Poco X3 NFC
Poco X3 (Non-NFC)
Poco X3 Pro
Poco M3 Pro 5G
Poco M3
Poco M2 Pro
Poco M2
Poco F2 Pro / Poco X2 Pro
Poco X2 Pro
Poco X2
Poco C3
Redmi Models:
Redmi Note 10
Redmi Note 10S
Redmi Note 10T
Redmi Note 10 Pro
Redmi Note 10 Pro Max
Redmi K40
Redmi K40 Pro
Redmi K40 Pro+
Redmi K40 Gaming Enhanced Edition
Redmi K30 Ultra
Redmi K30i 5G
Redmi K30 5G Racing
Redmi Note 9 Pro
Redmi Note 9
Redmi K30 Pro Zoom
Redmi K30 Pro
Redmi Note 9S
Redmi Note 9 Pro Max
Redmi 9 Prime
Redmi 9i
Redmi 9
Redmi 9A
Redmi 9C
Redmi 10X Pro 5G
Redmi 10X 5G
Redmi 10X 4G
Redmi 9
Redmi K20 Pro Premium
Redmi K30
Redmi K30 5G
Redmi K20 Pro
Mi Models:
Mi Mix Fold
Xiaomi Mi 11 Ultra
Mi 11
Mi 11 Pro
Xiaomi Mi 11X
Mi 11X Pro
Mi 11 Lite
Xiaomi Mi 10T Pro
Mi 10T
Mi 10T Lite
Xiaomi Mi Note 10 Lite
Mi 10 5G
Mi 10 Ultra
Xiaomi Mi Note 10
Mi Note 10 Pro
Mi 10 Youth 5G
Xiaomi Mi 10 Lite 5G
Mi 10 Pro 5G
Mi CC9 Pro
Xiaomi Mi Mix Alpha
Mi 9 Pro 5G
Mi 9 Pro
Xiaomi Mi 9 Explorer
Black Shark Models:
Black Shark 4
Black Shark 4 Pro
Black Shark 3 Pro
Black Shark 3
Black Shark 2 Pro
Black Shark 2
Black Shark 3S
We'll keep updating this article whenever a new update or info available. Till then stay tuned for more info. For further queries, you can comment below.